In mission-critical data center environments, maintaining maximum system uptime is essential to prevent unnecessary interruption to end-user business productivity. Whether they are running thousands of financial transactions per second, running calculations and storing outcomes, or any number of crucial business operations, end-users need to feel confident that their data center and high performance computing technologies will work when they need it most.
Source has supported OEMs, ODMs and their customers in mission-critical data center environments for nearly two decades. Our data center product support ranges from client computing, servers, and storage to networking and super computers. Our service capabilities include: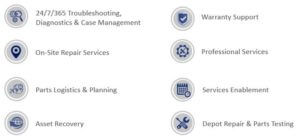 With our worldwide network of certified field service engineers and our global eLearning program, Source enables our customers to scale their on-site support services, installation and de-installation, parts and logistics, and technical support services on-demand with locally-based resources around the globe who are trained and certified to work on our customers' systems. This in turn supplies a high-quality, cost-effective solution backed by the expertise to help streamline our services while maintaining the highest quality standards.
For more information about our Data Center solutions, click here to download our Data Center Services data sheet.