Healthcare providers depend on medical technologies to store and access medical records, assist in medical tests and procedures, and more. Whether the end-user has a telemedicine cart in a remote geography, an ultrasound or MRI system in the middle of a bustling metropolis, or a chemical analyzer in a research lab, they need to feel confident that their medical technology will be ready when they need it most.
Source supports OEMs, ODMs and their customers in mission-critical healthcare, clinical, and laboratory environments. Our medical technology product support ranges from client computing and diagnostic imaging, including mobile imaging systems and telemedicine carts, to lab analyzers, medical laser, sterilization systems and advanced health information systems services for server, storage and networking. Our service capabilities include: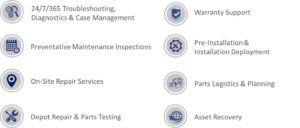 Our service programs break the mold of traditional fixed-cost service programs. Located in the United States, Source's Support Operations Center, automated service management platform and worldwide field services network provides an innovative and quality-driven approach to services that controls costs and protects our customers' brand.