Source's managed field services solutions enable our customers to reduce field service management to a single point as Source dispatches and manages our worldwide field service network and logistics processes.
At Source, we are committed to advancing the overall customer experience. One way we achieve this is by reducing touchpoints for our customers wherever possible to streamline their service management involvement. Every service event is managed from cradle to grave by our team of Technical Support Engineers. When a case is logged in our Source Central service platform, our team begins an in-depth troubleshooting and diagnostics assessment, dispatches a field service professional and a replacement part (if applicable), and performs complete end-to-end case management ensuring compliance with the customer's processes and requirements. This team also serves as an additional source of expertise should field service professionals have questions while on-site.
Source's team will not only dispatch but also manage the entire on-site engagement on our customer's behalf. In this way, our customers have a single point of management and visibility for all their field service operations.
Source's Remote Support Solution Offers:

A global network of trained & certified field support professionals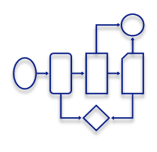 Field resource dispatch and on-site management from cradle to grave

Single point of management and visibility for all field service operations
Featured Services
Source's Managed Field Services solution includes the following featured services: