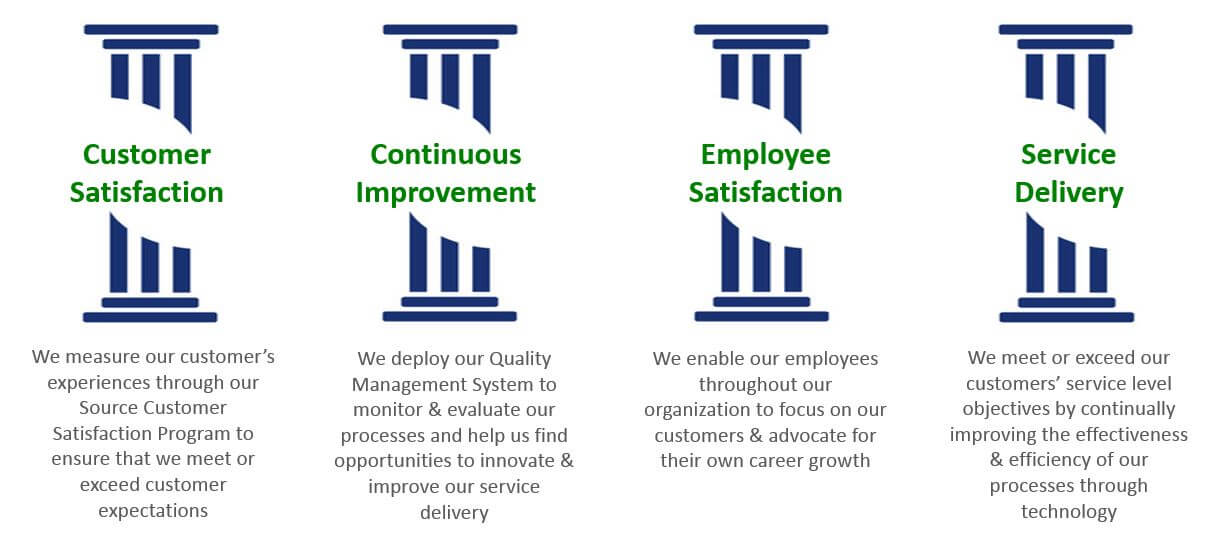 The quality of support services is based on the end-user's entire experience from acquisition and installation to usability, reliability, serviceability and support. This perceived quality has become a major factor in customer loyalty and satisfaction; customers and end-users trust that someone will be there to deliver high-quality, reliable support every step of the way. Source understands these expectations and we are dedicated to creating the best possible service quality perceptions as we represent our customers.
Our Quality Management System places heavy emphasis on employee, partner and customer involvement. In fact, over half of the quality feedback logged in our Quality Management System is self-reported. We have also instituted an internal audit program in which our employees review cases as they are occurring so they can assess quality standards in real time and immediately take action for improvement.
In addition to internal quality assessments, we also provide individualized monthly quality reports to each of our customers so they can review the performance of all service engagements supported on their behalf in the previous month. Customers also engage with Source on a regular basis to ensure alignment on expectation and procedures so the level of service quality we deliver remains at or above customer expectation.
It is because of this dedicated focus on quality from our employees, our processes and our technology that we have repeatedly achieved 98% customer satisfaction and 99% SLA achievement ratings.
Download Our Data Sheet to Learn More About Our Focus on Quality
At Source, we aim to help our customers be successful and we recognize that achieving this means more than just delivering exceptional support services. That's why we combine our expert service capabilities with a Customer Success team that is committed to the welfare of every customer. Each customer success representative partners with our customers to ensure that every support engagement we deliver on their behalf meets their expectations for quality and customer service.
We view Customer Success as a personal relationship between businesses. Building this type of relationship develops strong ties that are focused on mutual benefit rather than simply an exchange of goods. We look to our customers to share with us their experience to help us grow and develop into the future. At the same time, we aim to be an advocate and trusted advisor to our customers, helping them achieve success now, into the next year and beyond.