There have been many reports in recent years about a large shift in the US and global economies toward a freelance workforce. According to Edelman Intelligence's 2017 Freelancing in America report, the freelance workforce has grown three times faster than the general American workforce since 2014. Our customers and prospects in the data center and medical industries often tell us how they see the benefits of a freelance workforce to gain more cost efficiencies in their service operations. At Source, we wanted to gain a better understanding of how these trends relate to our own Source Techworks network of field service professionals.
We sent an online survey to members of our global network to gain an understanding of their background and work experience as freelance field support professionals. The survey was open from September 2017 to February 2018 and results were submitted anonymously.
Overall, the results confirmed our belief that Source Techworks features a truly remarkable group of freelancers who have extensive knowledge and training, multiple years' experience in freelance field support, and an ingrained respect and appreciation for the quality principles and customer satisfaction standards Source and our customers expect:
4% have completed a bachelor's degree or higher. An additional 37.8% have completed an associate degree or some form of trade, technical, or vocational training.
71% have worked as a freelance field service engineer for at least 6 years
When asked what influenced them to begin work as a freelance field service professional, just over 45% of respondents said they were most drawn to having flexibility to choose what jobs to accept and when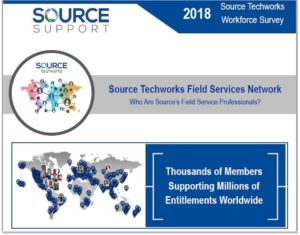 View all results from our 2018 Source Techworks Workforce Survey to learn more about our Source Techworks network.